Complete Story

Welcome DiVal Safety Equipment - New OABA Member Service Provider!
Visit with DiVal at the 2019 OABA Industry Conference

OABA is excited to announce a new partnership as OABA's preferred safety and supply member service provider: DiVal Safety Equipment!
DiVal Safety Equipment is a Premier Safety and Industrial Distributor. DiVal Safety is devoted to the safety of your employees and committed to the bottom line of its partners. DiVal specializes in providing and servicing lifesaving equipment that ensures your employees make it back to their kitchen tables each and every night. They also offer Safety Culture Programs to assist your efforts in changing the way your employees value their own safety.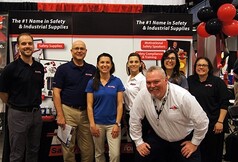 As part of OABA's partnership with DiVal, members receive special offers and pricing on safety products and services. For more information, please contact Andrew Lesinski at (716) 698-1749 or alesinski@divalsafety.com.
Learn more about DiVal Safety at oaba.net/services_safety and visit DiVal's exhibitor booth at the 2019 OABA Industry Conference!