Ohio Certified Crop Adviser of the Year Award
The Ohio Certified Crop Adviser of the Year award was designed to recognize individuals who are highly motivated, deliver exceptional customer service for farmer clients in nutrient management, soil and water management, integrated pest management and crop production and have contributed substantially to the exchange of ideas and the transfer of agronomic knowledge within the agricultural industry in Ohio.
2021 CCA of the Year Award Application - Coming Soon!
Click here to download the 2021 CCA of the Year Application.
Due January 15
Congratulations Wesley Haun - 2020 CCA of the Year!
Tiger-Sul Products, LLC - West Liberty, Ohio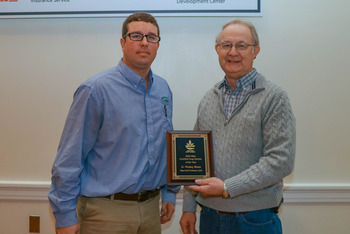 Past Award Recipients:
2019
Don Boehm, Legacy Farmers Cooperative
2018
John Fritz, The Andersons, Inc.
2017
Timothy Berning, Precision Agri-Services, Inc.
2016
Matthew VanTillburg, VanTillburg Farms
2015
Chuck Gates, Seed Consultants Inc.
2014
Joe Nester, Nester Ag. LLC
2013
Melvin Lahmers, TMK Farm Service
2012
Mike Dailey, Independent Consultant
2009
Dave Moroschan, S & D Application, LLC
2008
Jeff Howard, Harvest Land Coop
2007
William Gombash, Berket Farm Center
2006
Roger Butts, Agro Serve Consulting
2005
Bill McDonald, Champaign Landmark
2004
Bill Lehmkuhl, Precision Agri-Services, Inc.
2003
David Scheiderer, Intergrated Ag Services
(also National AFBF Winner)