OABA History
Complete Story

Nicole Volk
Director of Communications & Marketing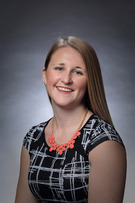 Nicole Volk is the communications manager for the Ohio AgriBusiness Association. She handles all aspects of association communications including social media management, event promotion, press release and news writing, graphic design, photography and videography. Nicole also manages the association's yearly directory and serves as the staff liaison for the Membership Committee. She joined the OABA team in September 2016.
Nicole graduated from The Ohio State University in December 2016 with bachelor's degrees in agricultural communication and public affairs.
Nicole serves on OSU Department of Agricultural Communication, Education, and Leadership's Alumni Board, where she helps plan events to engage alumni with other alumni, students and the department. During her free time, Nicole is an avid nature photographer and gym enthusiast. Originally from Gibsonburg, Ohio, she now resides in Columbus with her husband, Matthew.