OABA History
Complete Story

Christopher Henney, CAE
President and CEO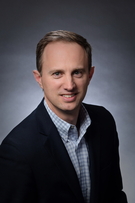 Chris Henney joined the Ohio AgriBusiness Association in May 2011 as the president and chief executive officer. OABA is a membership-based state trade association that can trace its history to 1880. Originally founded as the Ohio Grain Dealers Association, OABA members today include manufacturers, wholesalers and retailers of plant nutrient and plant protection products, the grain warehousing and marketing industry, the feed industry and the seed industry, as well as companies providing equipment, financing, insurance, consulting, and other products and services for the agribusiness industry. Chris has been involved in Ohio agriculture for most of his life and is excited about leading OABA into the future.
Prior to joining OABA, Chris held several positions at the Ohio Farm Bureau Federation, most recently as the director of legislative relations. In that capacity, he represented the organization before the Ohio General Assembly as well as agencies and departments of state government.
In February of 2015 Chris was appointed to The Fertilizer Institute's board of directors, a national trade association for producers, manufacturers, retailers and transporters of fertilizers. Chris is a member of the Association of Ohio Commodores and the Columbus Rotary. He serves as the chairman of the Ohio FFA Foundation board of directors and recently served on the Vice President's Advisory Council for The Ohio State University's College of Food, Agricultural, and Environmental Sciences.
Chris holds a Master of Business Administration from Capital University and a Bachelor of Science in Agriculture from The Ohio State University. He also holds the designation of Certified Association Executive. He and his wife Beth reside in Columbus, Ohio with their two boys, Aidan and Patrick.